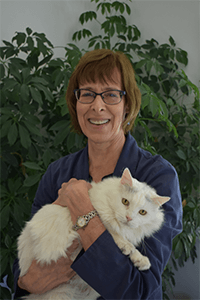 Dr. Linda Osborne
Dr. Osborne grew up in Oak Ridge and spent two years in Germany as a teenager. She decided she wanted to be a vet at eight years of age, when her dachshund had 14 puppies. She later volunteered in the kennels at a local vet clinic while in high school. After graduating from the University of Tennessee College of Veterinary Medicine, she moved to north Florida but missed the mountains, so she returned to Oak Ridge four years later. After 10 years of clinical practice, she bought Tri-County Small Animal Hospital in 1995. She has a very energetic, happy, Lab mix named Osito, who keeps her active because he likes to go for so many walks.
When she is not in the hospital, Dr. Osborne enjoys reading, gardening, bicycling, singing, and hiking.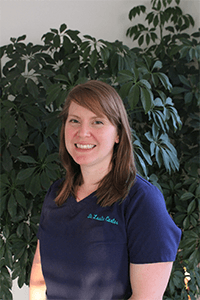 Dr. Leslie Carter
Dr. Carter is from southeastern Pennsylvania. She graduated from the University of Tennessee College of Veterinary Medicine in 2013, got married and settled down in Knoxville. She has been practicing veterinary medicine in the area ever since. She has two cats and three dogs with adorable nicknames: Cutes the cat/"Cute-ins" aka Cute Kitten, Luna the cat aka Little Beeper, Gus the dog aka Emotions, Hank the dog aka Hammy, and Reni the dog aka Stinky Flower. 
When she is not in the hospital, she loves gardening, knitting, yoga, and spending time with Henry, her toddler.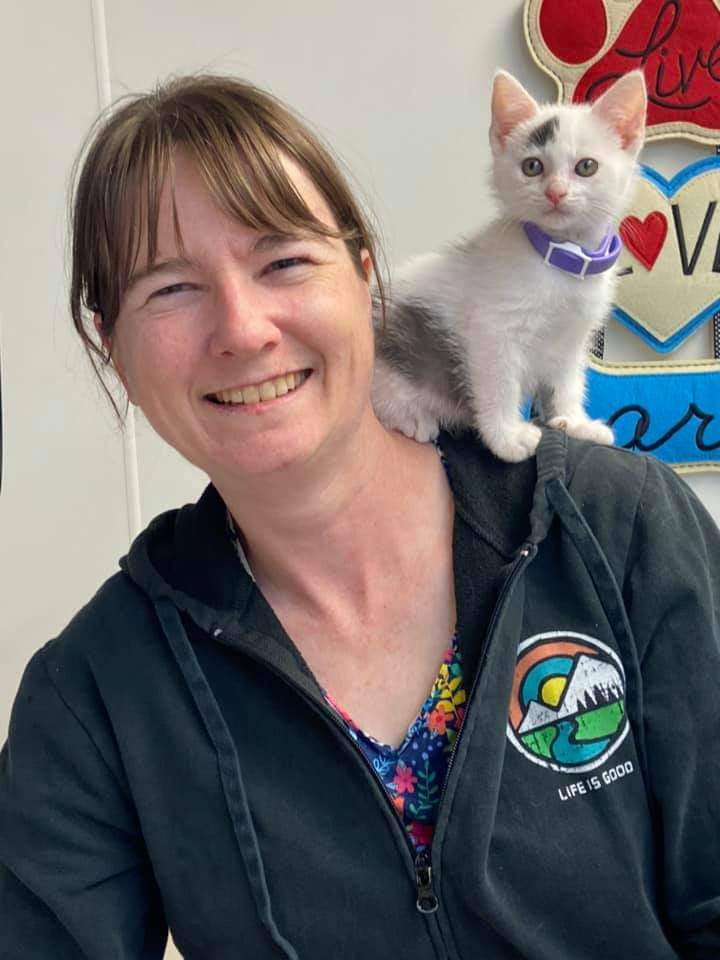 Dr. Jenni Godfrey
Dr. Jenni Godfrey grew up in Birmingham, Alabama and graduated University College Dublin School of Veterinary Medicine in 2007. After practicing in Alabama for a few years, she and her husband moved to Tennessee for the kayaking, mountain biking, hiking and fishing. In addition to treating cats and dogs, she will also treat goats, sheep, chickens, pot-bellied pigs, hamsters, guinea pigs, rabbits, gerbils, birds (for beak, nail and wing trims), and reptiles.  Dr. Jenni has three dogs, four cats and a tarantula, and enjoys being outdoors when not at work.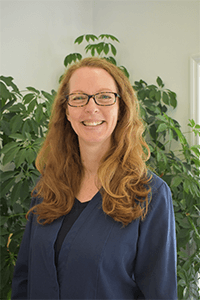 Lauren, Practice Manager and Client Services Representative 
Lauren grew up in Oak Ridge. Her love affair with cats began when she was nine and was charged with caring for her neighbor's cat while they were on vacation. She remembers really enjoying feeding the cat, freshening her water bowl, and brushing her soft fur. Lauren worked at a local animal hospital during high school and college. After more than a decade in other parts of the country, she returned to Tennessee. When she came across the job opening at Tri-County Small Animal Hospital, she knew it was a perfect fit.
Lauren lives with Sylvie, a little tabby cat who loves to chase pom poms and chirps at the birds from her indoor windowsill. In her free time, Lauren likes riding her bicycle, hiking, exploring new places, and reading books.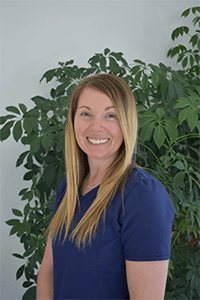 Melissa, Assistant
Melissa grew up in Bean Station, Tennessee, and moved around quite a bit. She lived in Bristol and Knoxville before finding her way to Oliver Springs. She was raised on a farm where they had a lot of animals, and she has always loved them. She loves her job– it's where her heart is.
Tank, her Appaloosa horse, age eight, is a big boy– that's how he got his name! He is a horse of a different color with his unique markings. Peppermint treats and long trail rides are some of his favorite things. Fern, her mini zebu, has big floppy ears! Her bunny Ruby is a unique blend of white with blue/gray spots. She also has some very cute fluffy baby bunnies. 
When not at work, Melissa enjoys spending time with family and friends, riding Tank, going on trail rides, and wagon trains.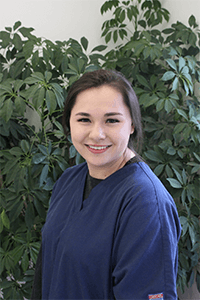 ​​​Kalley, Assistant
Kalley grew up in Oliver Springs and has lived here her whole life. Her family brought their animals to Tri-County Small Animal Hospital for years, so when she decided to pursue animal medicine, she volunteered here for the experience.
Kalley is currently in school at Carson-Newman University majoring in biology; she'll graduate with a BA in May 2021. She has always loved animals and science, and she realized she should pursue these two passions after her first semester in college.
Her dog Bruce loves eating cheese and playing with his cat brother, Percy, who's favorite thing to do is looking out the window. She also has three rats, Remy, Meatball, and Marinara, who love to get into things they're not supposed to.
When not at work, she loves to write, read, and make art on her iPad. She also enjoys spending time with friends and family.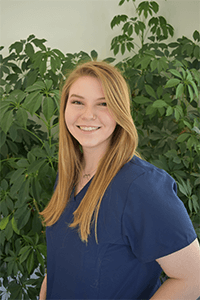 Kirstin, Assistant & Client Service Representative
Kirstin grew up in Oliver Springs. Her parents brought their animals to Tri-County, which inspired her to apply to work here. She has always had a passion for animal care but realized she wanted it to be her career when she was in fourth grade. She is currently working on an undergraduate degree and plans to apply to the University of Tennessee to continue her education in veterinary medicine. 
She has three dogs, Tiny, Delilah, and Athena; three cats, Serenity, Gracie and Khaleesi, and a mule named Lucy, all of whom are female. Athena was her first dog, who she has had since she was in fourth grade. 
Kirstin loves spending time with her friends and going horseback riding. She's also into hiking; her favorite places to hike are Frozen Head State Park and the Great Smoky Mountain National Park.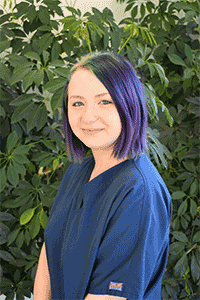 Jada, Assistant
Jada has lived in Kingston and Oak Ridge, Tennessee. Her stepmother practiced animal care for 14 years and hearing her stories since she was eight encouraged her interest in animal care. Jada attended Roane State Community College, and after finishing school, she searched for a job that would give her the opportunity to help animals.
Her 17-year-old fat cat Twilight has some sass! He meows when anyone enters the kitchen, and he loves chicken. Arthas is 12 years-old. He's a big baby and is afraid of storms, so he hides in the tub. Shadow is her seven-year-old super hyper cat. Jada found her as a kitten at an old apartment and she was soon adopted by Jada's grandmother.
In her free time, Jada likes tending to her chickens, going to the gym, camping and stargazing, hiking with her friends, playing video games, and watching movies.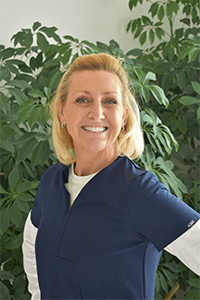 Stacy, Customer Service Representative
Stacy grew up in Cincinnati, Ohio, and moved to Tennessee in 2005. She had worked at a few animal hospitals, so she gave her contact information to Tri-County Small Animal Hospital. Dr. Osborne suggested she fill out an application; she did, and the rest is history! Stacy has always loved animals, but realized after getting her first basset hound, Hercules, many years ago, the animal field was where she wanted to be.
She has 10 indoor cats and two indoor dogs, a Yorkie and a Chorkie. Amelia, her youngest kitty, thinks that a crumpled-up piece of paper is the best toy ever! Her Yorkie Klaus thinks every toy is the best toy in the world; he also has the best tail wag. 
When not at work, Stacy loves fishing, hiking, yoga, karaoke, refinishing furniture, and making things for her house. She also loves her pet opossum Harry who lives under her shed.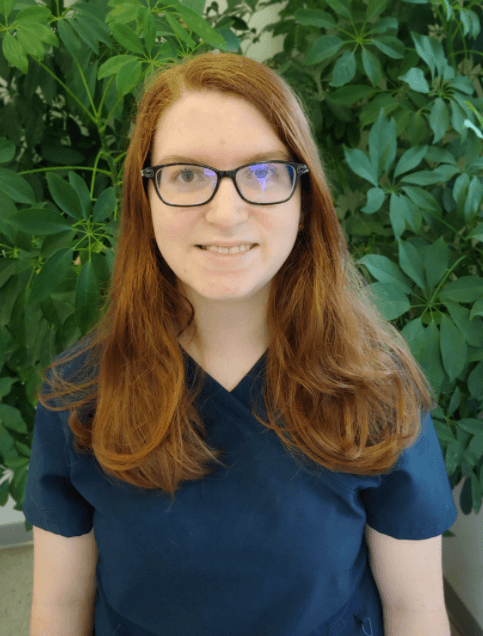 Mary Grace, Assistant
Mary Grace grew up in Roane County before moving to Morgan County in 2009. She had plans to go back to school to eventually work in the medical field, but she says that she was always on the lookout for a job opening in the veterinary field so that she could work with animals. She's always had pets, ranging from dogs to tarantulas. Her bearded dragon Chloe will stand on her back legs against her glass tank and move her arms when it's time for her crickets. She found Milo and Buddy, her dogs, on the street and recently adopted a leopard gecko.
Mary Grace also enjoys reading, playing video games, watching movies, and spending time with her family. She and her fiancé like kayaking together and planted their first garden in 2021.